Regular price
Sale price
$52.00 USD
Unit price
per
Sale
Sold out
The Bridle Up Hope Ring is inspired by the timeless "Claddagh" ring which originated in Ireland in the 17th century. At first glance, you think it's a Claddagh ring, and then you realize it has a little twist of horses and hope in the design—that makes this ring special and to be adored for years to come. Sierra West Jewelers in Utah has generously donated their time and resources to design and make this unique ring (design copyright © 2023).
Wearing this ring is a perfect way to show your love for horses!
Horses = trust, synergy, working together, part of the herd
Heart = love, hope & healing that radiates in one's soul
Horseshoe = an aura of protection, good luck, and positive energy
It all comes together as heart, horseshoe, and horses.
Details:
Two styles of bands: Celtic Knot or Simple Band
The Celtic Knot Band is a symbol of one string winding and looping back and forth over itself representing balance, the interconnectivity of life, and eternity
The Simple Band epitomizes clean lines, minimalist elegance, simplicity, and an enduring style
Crafted from high-quality 925 Sterling Silver
Comes in a beautiful pink velvet box with a debossed horseshoe on the lid
Highly durable, and a comfortable fit
Will be a lasting treasure that you pass down through the family
Made with love from us to you!
Exclusively sold at Bridle Up Hope
Makes a beautiful gift for an equestrian
Horse lovers will love this ring!
Be part of our barn family! Your purchase is important because 100% of profits go to the Bridle Up Hope charity—inspiring hope, confidence, and resilience in women!
Share
View full details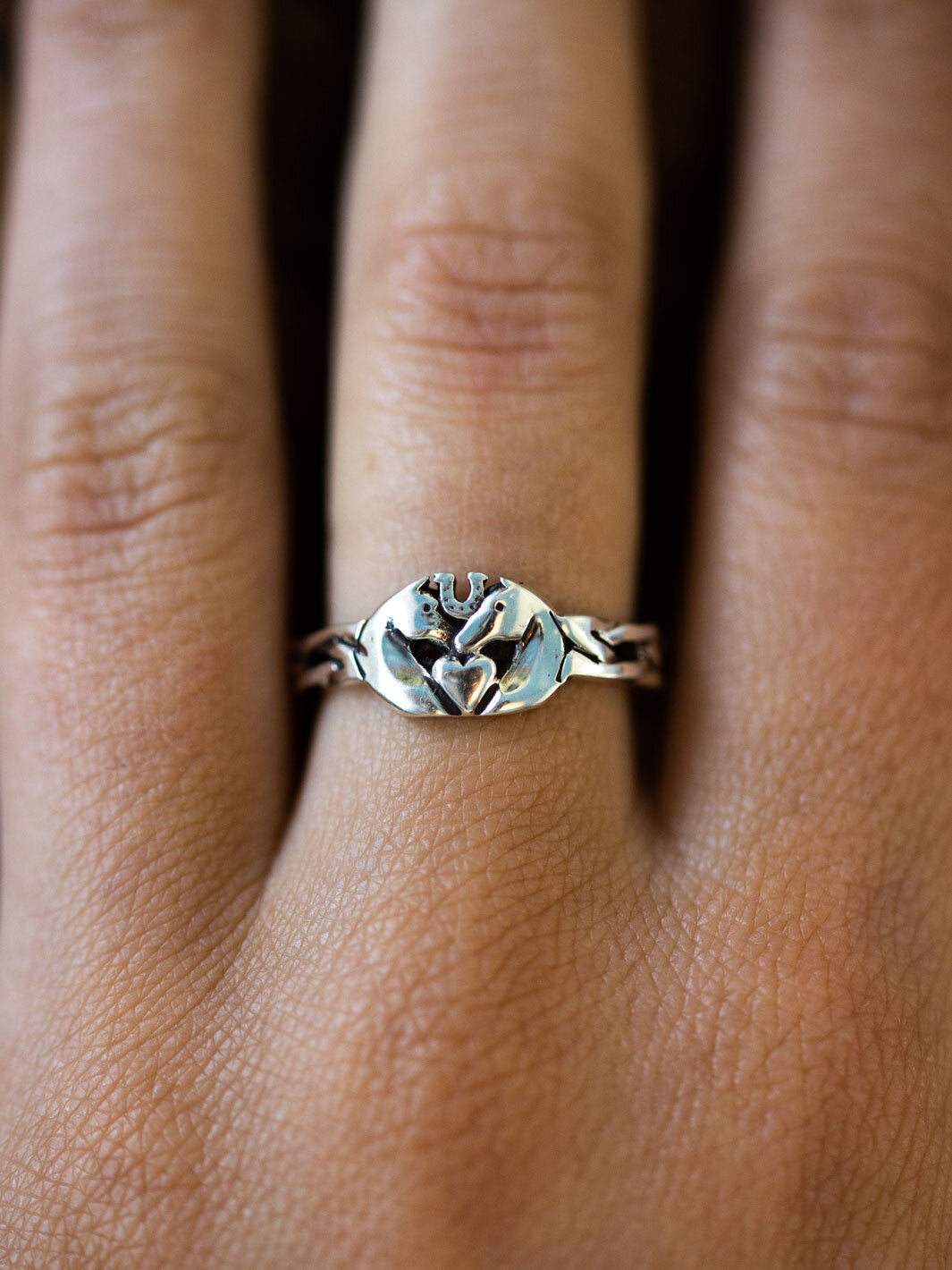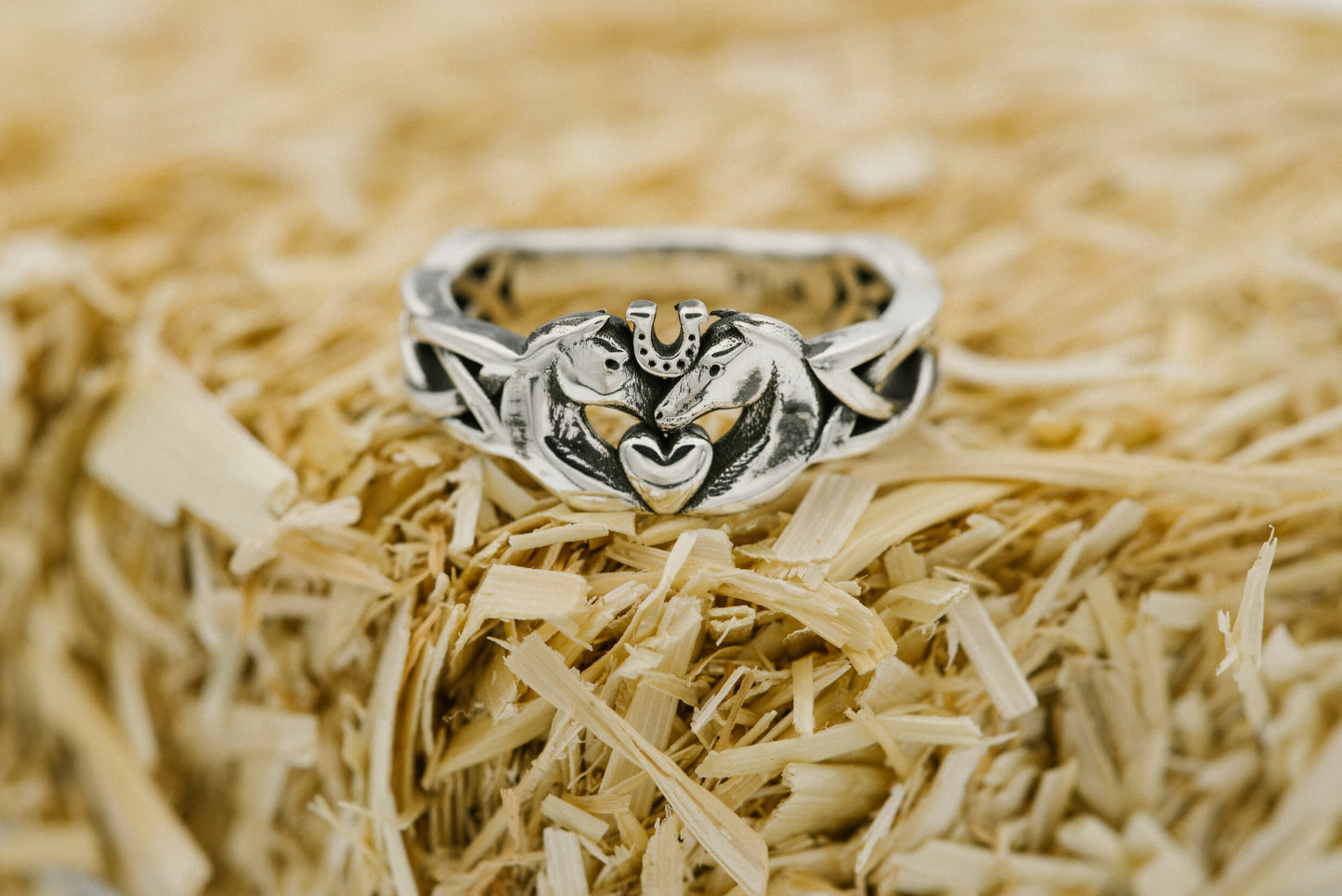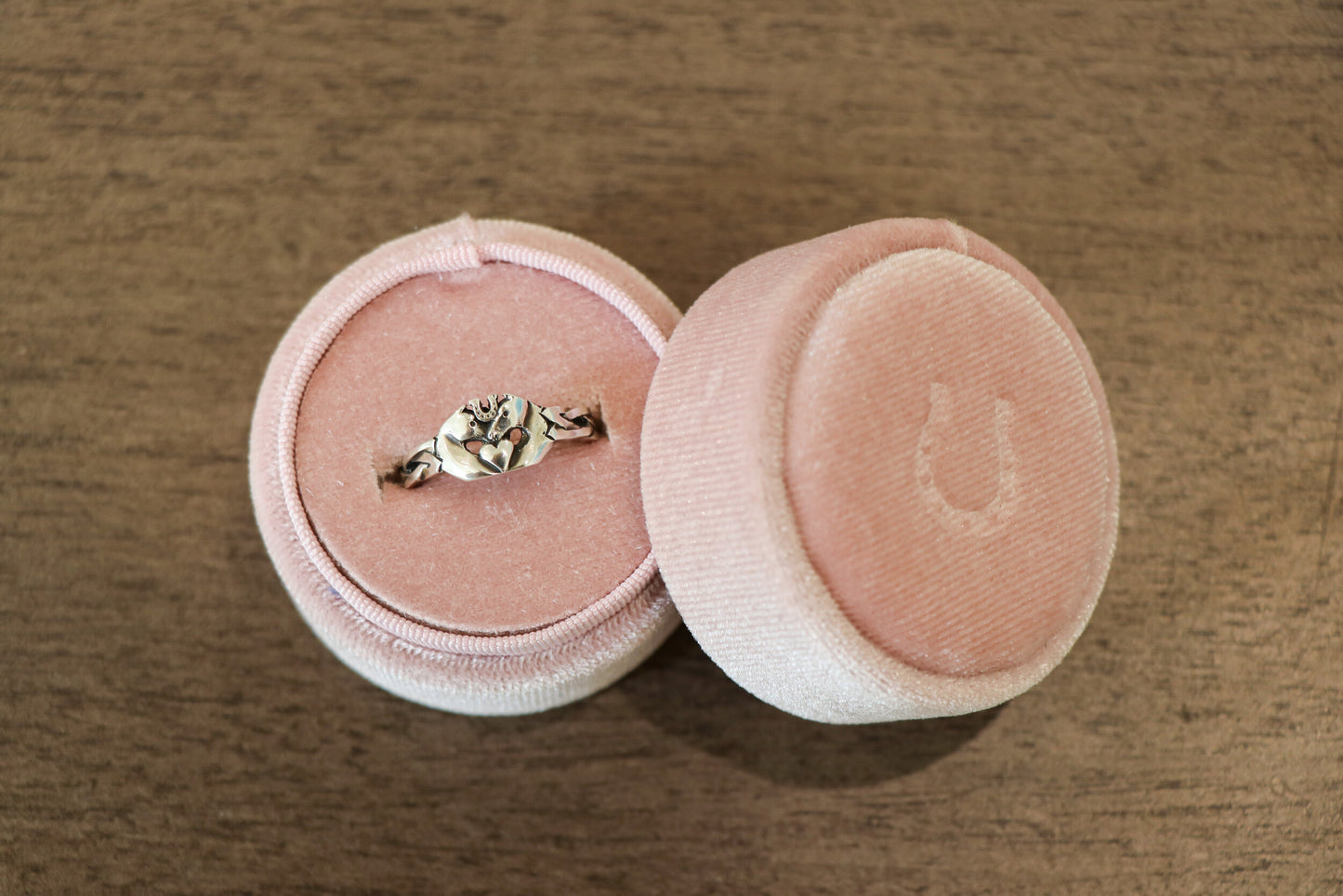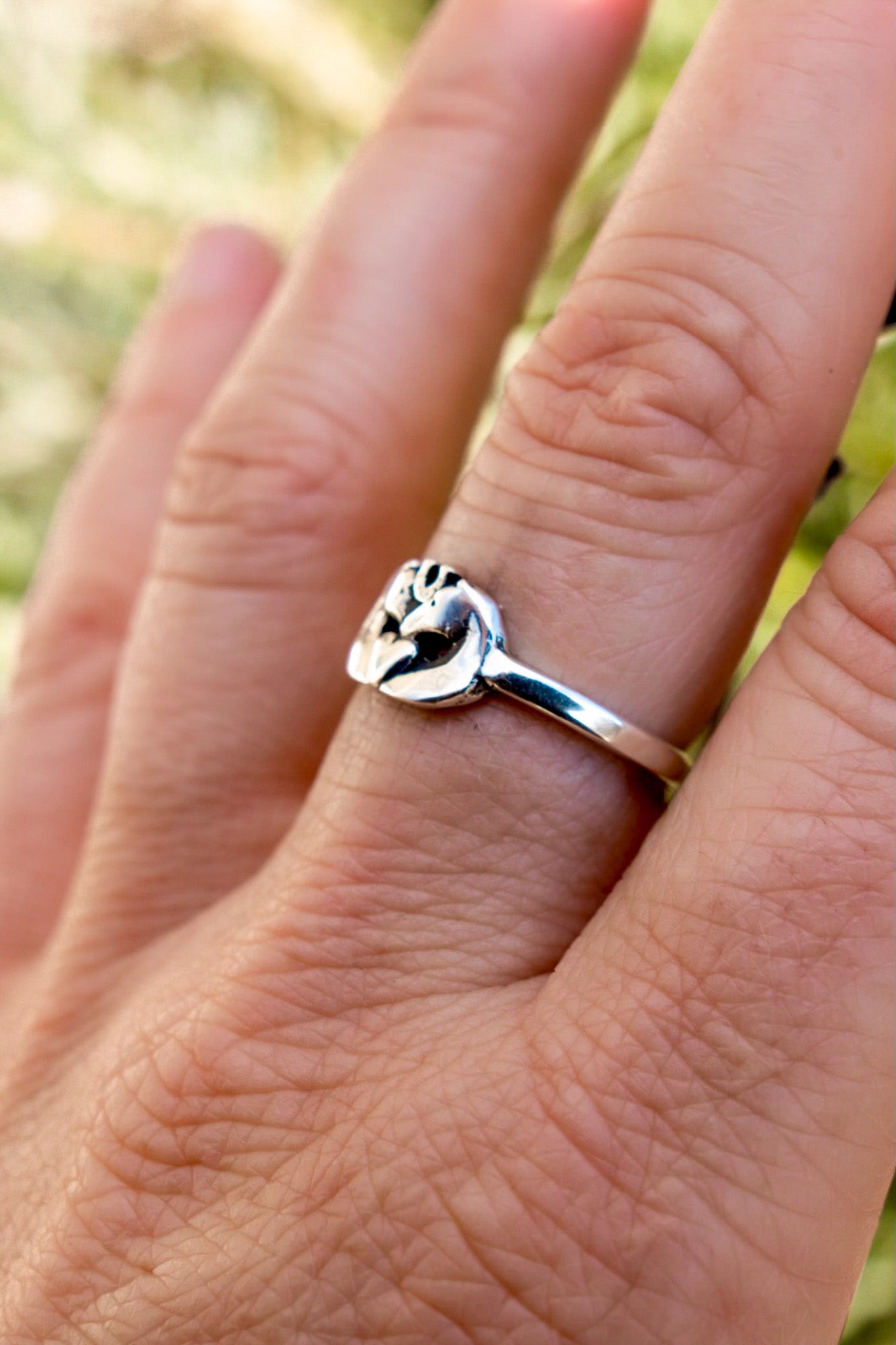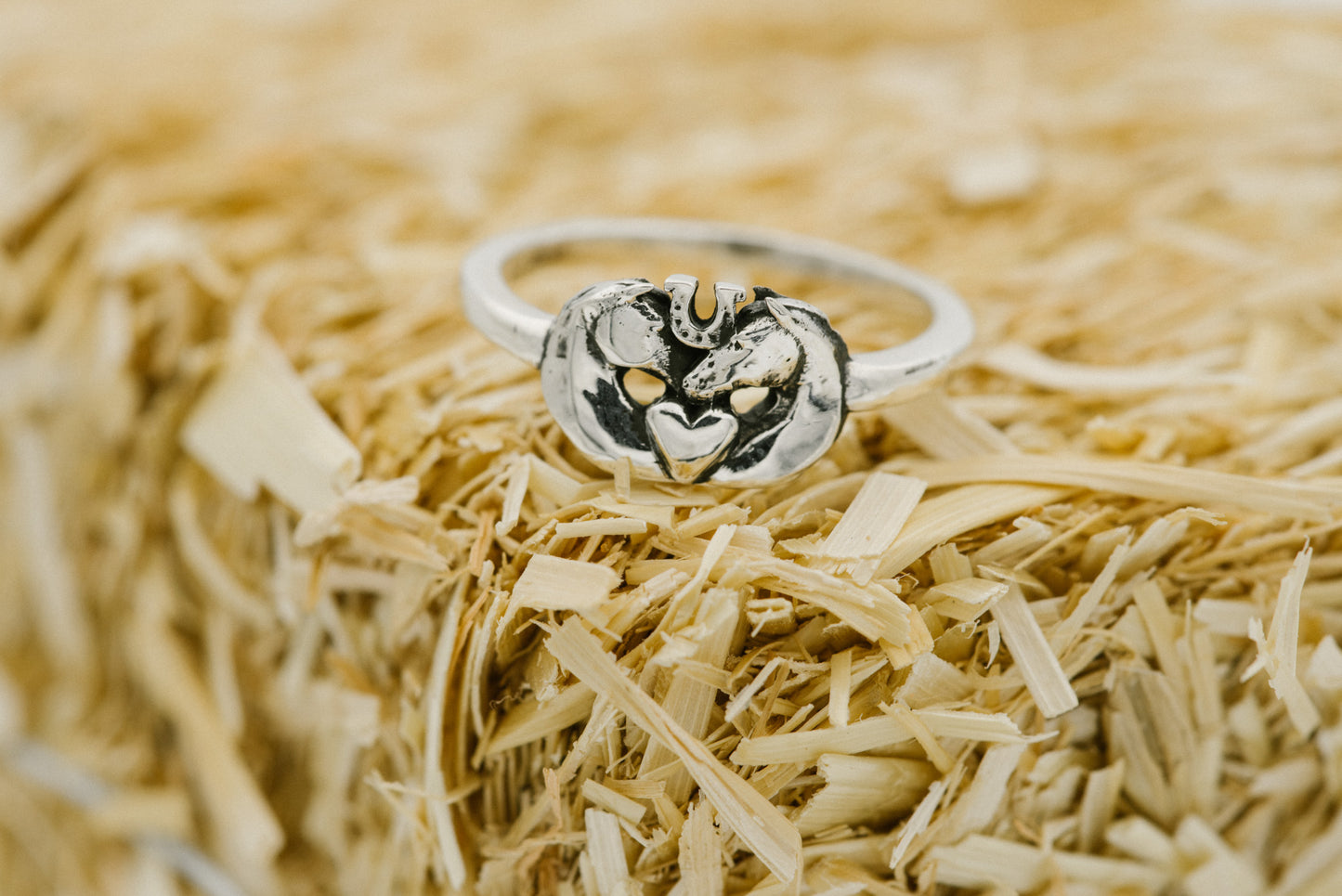 Impeccable presentation and product!!!!
I was SO impressed by my package when it arrived. So much quality material and a lot of effort went into the presentation and packing!!! And then on top of all that I LOVED my ring, it is beautiful and quality. Not cheap at all! And it came in a beautiful pink velvet ring box with a horseshoe on it. So beautiful! I can see this piece lasting for many years. It is comfortable too, I wear it 24/7. Would definitely buy again from this company!
So very happy
I recently purchased the white pony hoodies and have had a lot of compliments on it it's as beautiful as shown. I also purchased the snaffle bit necklace and the horse clauddagh ring and again have had many compliments on both pieces of jewelry love everything I purchased and will make some more purchases in the future
Coolest ring ever
I've been wearing this ring for months now and I love it. It is so unique and has a lot of special meaning to me. Would highly recommend!
A unique gem
There is lots of symbolism and meaning behind this ring. Read the description